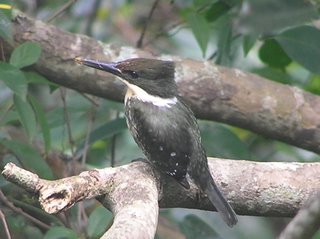 Since February we have had two new bird species and one butterfly appear in the Lodge gardens. A male Sooretama Slatey Antshrike has been seen on a number of occasions the last time it was accompanied by a female. Whilst sitting at my computer in mid February an adult? Rufous breasted Hermit came snooping around the outer edges of my study windows obviously in search of spiders or spider-prey, I've always wondered about seasonal movement of this species so it was doubly gratifying to get a new garden "tick" and a little bit more data on it's wanderings ?
During this same period we had a pr. of green Kingfisher hunting for a suitable nesting site in the earth-bank, which is situated under our deck. They stayed around for a few days, dug a little and then, apparently went away? Yesterday they were heard again close to the original area of interest.
This southern summer, 2007/08 has proved to be an exceptional one for butterflies, this is certainly due to the prolonged wet season that started in January and is still continuing in Southeastern Brazil. Yesterday we had, for the first time noted in the Lodge gardens/Marica region, a female Zaretis isidora looking to lay.This"Anaea" nymphalidae is well known to me from time spent in Trinidad, It is very closely related to the more flamboyant Siderone genus and the caterpillar is almost identical in both form and colour, I always thought that these two genera should be merged using these "early stages" criteria, maybe one day this will happen?
As I write this blogg I'm just about to head-off to a nearby birding hotspot. I have managed to arrange a 24 hrs free-period for me to explore some of the Desengano park southern perimeter. This area has to have the best list of endangered species for whole State of RIO de Janeiro. The major problem appears to be access, and lack of accommodation nearby. I have just 1 day to try and solve some of these problems. However this trip could prove invaluable as a research trip for future visits, especially if I can find some good habitat to explore for my next visit.
My season is just about over, I travel back to the United Kingdom next Monday to work the summer months in England. My next bulletin will almost certainly be made from Cambridge.